East Finchley
250 East End Road
East Finchley , London, N2 8AU
eastfinchley@tlechildcare.co.uk
Monday - Friday
07:30AM - 06:30PM
Ages 3 months to 5 years
Join us on Social
From infants through to preschool, we make early education and daycare joyful, engaging and fun so children are happy to learn, play and grow.
Chantelle , Centre Director. Designated Safeguarding Lead. Mental Health First Aider
My Name is Chantelle Gudgeon. I have been in childcare for over 16 years. Ever since I was a little girl I loved nothing more than playing with my dollies…
What sets our

TLE® Centres apart
TLE® centres are
vibrant, joyous place where kids love to learn
and indulge their curiosity. Take a look inside.
We love hearing from our happy parents
Parents are such an important part of The Learning Experience family. We love hearing from them–especially when they share with us the growth and learning they see in their children!
The Learning Experience (or Bubbles as we call it) is a game-changer. We had our other child in two different nurseries and we can say with confidence that The Learning Experience has far the best facilities and teachers. Our boy loved that place from day one and we feel he has the best care and education there. The Learning Experience's great location makes it extra convenient for us. We wish they were here sooner so our two children could attend.
Aga
Wonderful nursery with amazing friendly staff. My little one has settled perfectly and really looks forward to seeing his friends every day. The nursery provides everything we wanted in order for our child to thrive, I would highly recommend The Learning Experience for anyone looking for a new, clean and nurturing nursery.
Heena
I was walking down the road one hot summers day and bumped into this huge colourful elephant. My little girl was infatuated with him and would not let him go. I then went to view the nursery and wow, just wow. I was taken aback by the bright space and what the centre offers the children. The facilities are out of this world, it is something that you will not experience at another nursery in the UK. The staff and management team was so welcoming and made me feel at home from the moment I spoke to them and that continues throughout the whole time my child is here. Every day my child comes home with such amazing stories of what she has learnt and the benefit of the app they have means I get sent photos and feedback daily. I can promise you this nursery is one-of-a-kind and one you should send your child to.
Diana
My son absolutely loves going to his nursery. He is made to feel welcome every day and is kept engaged with the rich curriculum the nursery provides. The manager and her team are incredibly nurturing and will do their best to accommodate the individual needs of the children. I'm so lucky to have this nursery so close to me. Highly recommended.
Ruby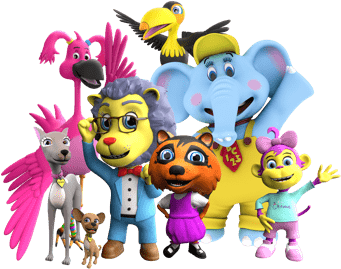 Characters that bring
learning to life
Designed for the five
stages of early development
Our curriculum is intentionally designed and created to focus on each of the five early stages of development: Infant, Toddler, Twaddler, Prepper and Preschooler.
Built with your
child's needs

in mind
At each TLE® Centre, every detail was deliberately selected — and plays a key part. Together, they inspire a child's natural curiosity and creativity, and create an overall environment where children feel comfortable, safe and ready to learn.
Committed to innovation in childcare
Since 1980, The Learning Experience® founders the Weissman family have worked to develop and implement childcare and early education programmes that are innovative, ground-breaking and built upon three key principles: Learn, Play and Grow.