Enrichment Programmes for preppers
From 12 weeks to five years old, our little learners benefit from our Charlie Choo Choo Enrichment Programmes.. They're provided in kit formats that are taken home at the end of the unit, giving families an opportunity to extend their children's learning experience.
Suddenly Science
and

Marvelous Maths
Both our Science and Maths enrichment programmes drive home the all-important STEM (science, technology, engineering and maths) component, as they present real-world concepts in an engaging and fun way. The students associate the characters of Two Plus Toucan and Lionstein to make new discoveries each and every day.
Movin' N Groovin'
and

Super Soccer
Movin' N Groovin' is an early education enrichment offered in addition to our Physical Fitness Programme. It focuses on healthy habits and offers additional ways of staying healthy and fit. Our Super Football programme introduces preppers to team-building skills found in soccer as they learn to pass the ball to a teammate, dribble and score.
Dancing Feet
and

Yippee 4 Yoga
These two child enrichment programmes encourage children to move their bodies, develop their physical and intellectual muscles, and reinforce previously learned strategies to convert stress into positive and healthy energy.
Dramatic play takes centre stage in Talent Sprouts®. In addition to further developing their fine and gross motor skills children also pretend and act out different characters, animals, and imaginary and real-world situations.
Our enrichment programmes are offered to TLE® children at no additional charge.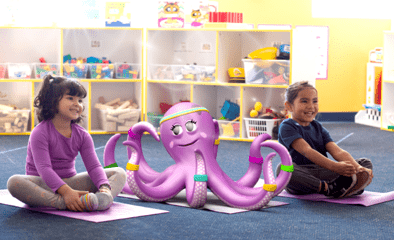 Our enrichment programs are offered to TLE® children at no additional charge.