Meet The Learning Experience® characters
Our large cast of joyous, colorfully animated characters capture children's imaginations every school day and help set TLE® completely apart in the early education field. Get to know them below.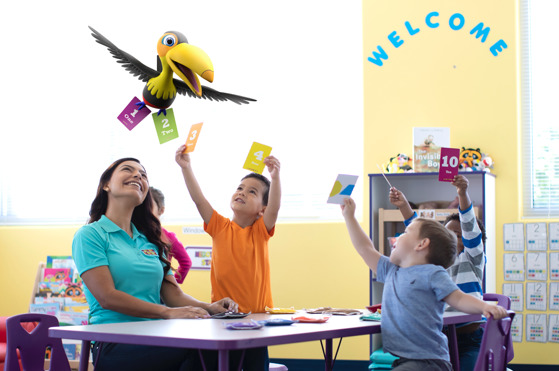 Why they are an
integral part of learning

at TLE®
Scientific studies indicate that children love to learn from characters. That's why we've developed a wide, joyous group of them, each with his or her own personality, and unique activity or trait to introduce, tying into crucial parts of our diverse childhood development curriculum. They help engage, entertain, comfort and teach children. They make the education at TLE® as highly effective as it is exceptionally fun.
How the cast began

and grew
TLE® co-founder Linda Weissman has always loved elephants because they are family-oriented animals. That inspired her to create Bubbles the Elephant, our iconic blue elephant mascot. New characters were created along the way.
Today there are over 90 TLE® characters
, to teach our children different lessons and inspire them in unexpected ways.
Our lovable friend who takes you on a daily adventure that makes children happy to learn, play, and grow.
Our dynamic doggy duo introduces the importance of being generous and giving to others through the learning of philanthropy.
Our passionate fitness instructor teaches the importance of an active lifestyle and healthy food choices.
Our wise and creative scientist who makes science fun and exciting.
Our literature loving llama makes reading fun and takes our children on imaginative adventures through books.
Our creative mathematician helps explore the joy of math.
Our well-mannered etiquette coach demonstrates the importance of being helpful, honest, and kind.
Our spunky monkey keeps children active to promote a strong body and mind through sports and movement.
Our musically talented bear loves playing his bongo drum and sharing his love of music with others.
Our tiny traveler enjoys visiting countries and cultures from around the world and teaching the Spanish language to our curious learners.
Our adorable panda is excited about teaching our little ones about her homeland of China, its culture and the Mandarin language.
Our amazing octopus teaches our little yogis how to stretch, bend and move through yoga to inspire calmness and flexibility!
Our talented Shakesperian billy goat enjoys the stage and the limelight while sharing his passion for theater and the arts with others.
Our soccer star loves scoring goals and teaching soccer skills such as dribbling, trapping and passing to our active little athletes.
Our kangaroo trio loves to boogie to the beat and teaches a variety of dance styles to get our little learners moving on their feet!
Our adventurous submarine reveals the many wonders of the underwater world.